Yamagata, meaning "shape of mountains," is an appropriately named prefecture with distinctive rural character and a noticeably slower pace of life. It is one of Japan's least populous prefectures and also home to one of its oldest average populations, despite the ruggedness of the terrain and climate. Even its larger cities seem sparsely populated compared to their counterparts in other prefectures along Japan's Pacific Coast.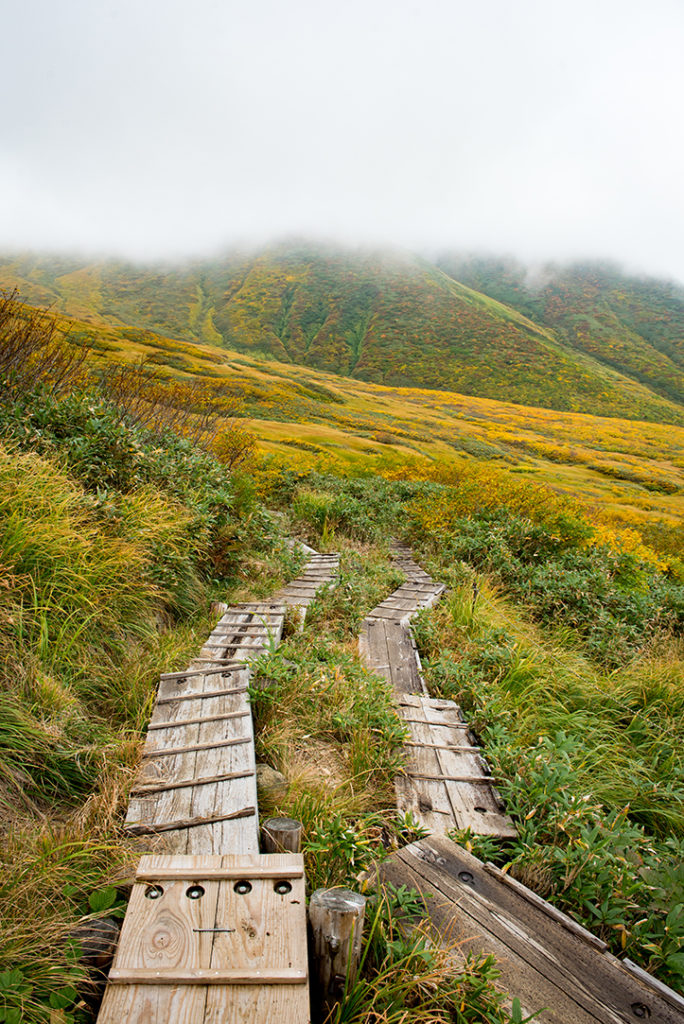 Nearly one fifth of Yamagata is natural park area. The prefecture is rich with outdoor attractions, too, not simply undisturbed nature, which in the Tohoku region can be quite inhospitable in the winter. The abiding question is: do you have the stamina and sense of adventure to enjoy the attractions? We hope so because they are among Japan's best "least-visited" ones. And in truth, you don't need hiking boots for all of them.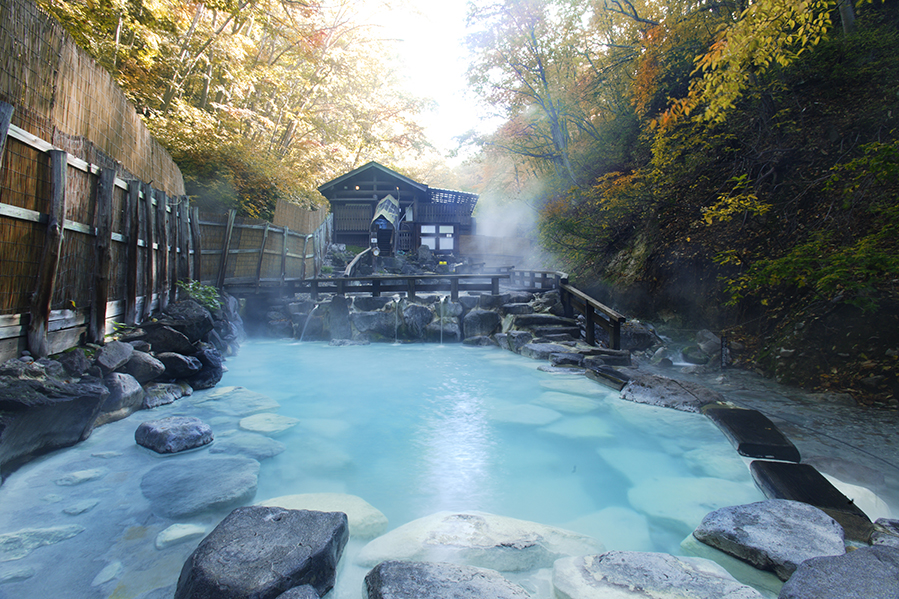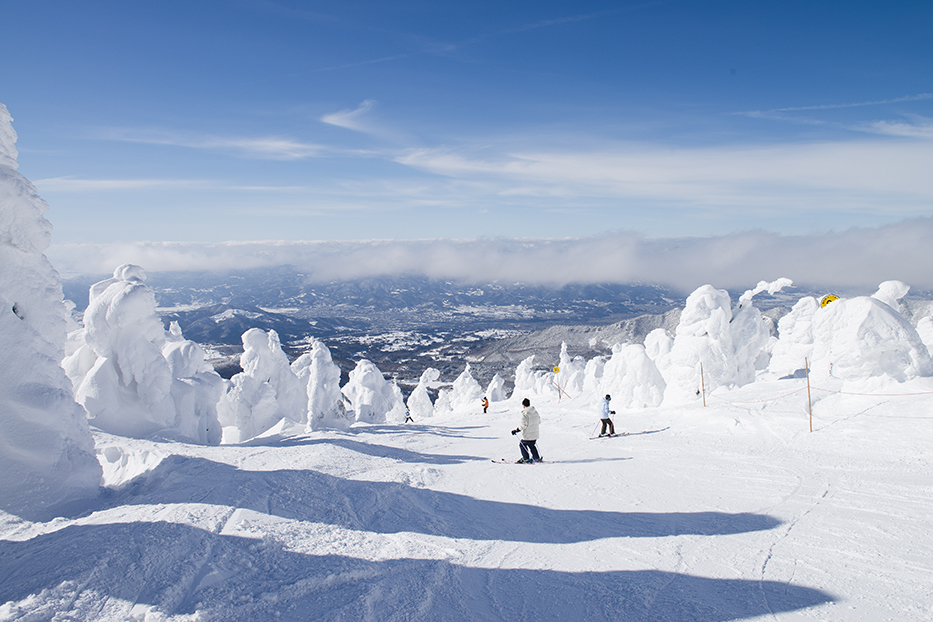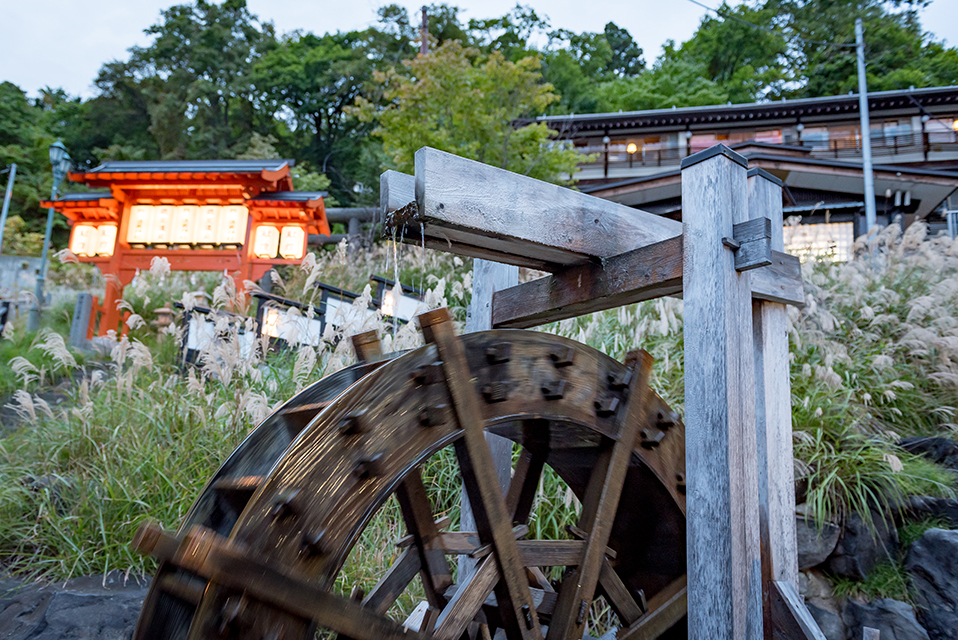 GINZAN
Those less interested in taking the plunge into ancient forests than into steaming baths of mineral water bubbling up from the volcanic depths should plan a trip to Ginzan ("Silver Mountain") Onsen. It is one of Japan's best hot spring resorts. It became widely known in Japan through a national public television series in the early 1980s called Oshin, which went on to garner the highest historical viewer-listener ratings for a drama, and created a general tourism boom for Yamagata. It chronicles the life of hardship of its main character, Oshin, from her childhood in 1907 through World War II and into her elderly years. It has since become an international television classic. Interestingly, at one point in her life she runs an eatery in Yamagata that–against her wishes–begins serving sake. It does so well the yakuza eventually pay her a visit.
Ginzan is somewhat remote, even by modern Japanese standards, and also quite small. It is hardly the overcrowded tourist spectacle you might expect of a resort with a romantic register in Japan's national consciousness. A 40-minute bus ride from the closest bullet train station gets you close. Ginzan's main strip is closed off to general traffic and guests must walk to their ryokan, even through snowy conditions in the winter.
The hamlet is little more than two streets running parallel along a sunken river that curves through it, with several footbridges traversing the water. The view upriver with the footbridges lined up is a particularly quaint one, especially with snowfall in the winter. There are only about a dozen hot spring ryokan and their architecture captures the feel of Taisho-era Japan (1912-26), when much of the modern rebuilding there began. The hamlet had actually been known as a hot springs area since the 1740s, although a cataclysmic flood in 1913 wiped out what structures previously existed, most of them the thatched folk homes of medieval times.
If you delve deeper toward the river's source, the footbridges in the heart of town give way to arched stone ones that accumulate moss in the warmer seasons. Eventually, Shirogane Falls appears in all its cascading glory. It is illuminated at night and worth the stroll there after a steamy bath. In the warmer months when there is no snow, there is a relatively easy hiking route through the hills beyond the falls that takes about an hour, running over a couple of footbridges and past several shrines. The silver mines that gave the town its name are now defunct, but are located along the trail and are open to the public in summer and fall.
One of the finer pleasures of staying in hot springs ryokan are the elaborate kaiseki meals. It will probably come with a small glass of sake as a kind of digestif toward the end of the meal, but if you ask, most ryokan will have a couple of varieties or more that you can order separately. A better option might be to stop into Yagihashi Shoten, the town's "local sake store" (which doubles as a gift shop), for a bottle or two of specialty, local sake, some of it quite rare. Another gift shop toward the start of town, Kameya, also has a decent selection of bottled sake. While you're there, you might want to consider snapping up a box of the Kame Manju, a local specialty bean cake that is particularly popular among visitors. One alternative option for sake is the town's soba restaurant, Izu-no-hana, which serves local sake between 6pm and 10pm–ask for the special menu options. During the day, it's a pleasant cafe, offering some respite from sake if you need it.
Hiking route maps available from the Ginzan website: www.ginzanon
sen.jp/sansaku.html (note the page is in Japanese, but clicking on the pdf files will give you some basic English help)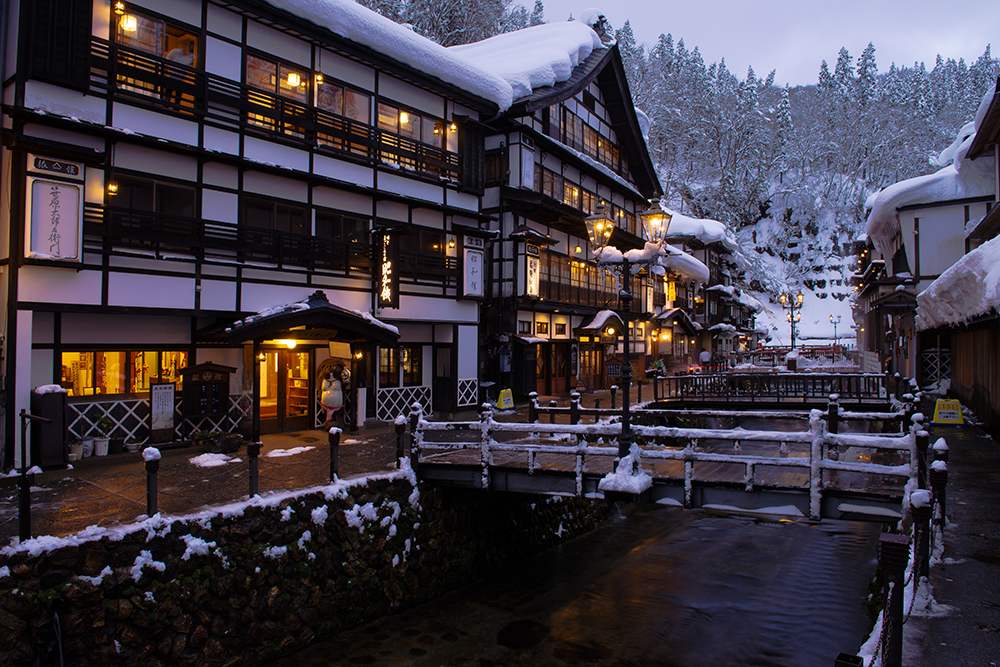 YAMADERA
Yamadera is one of the most stunning temple precincts in Japan, in large part because the structures of Risshaku-ji–the temple itself–are perched on outcroppings of the jagged mountain. Yamadera means "mountain temple," but is actually the common name for the area and local train station. It includes the breathtaking climb up roughly one thousand steps through a mossy forest of ancient cedar trees to the expansive views afforded by the temple. Beyond the valley and small, rural town below, there is little more to see than mountains rolling into the distance. In the winter the view is starkly beautiful and makes you wonder what life must have been like for the monks that were coming here over a thousand years ago.
The temple's religious significance (it's a part of the Tendai sect) and majestic vistas were enough to make it an object of pilgrimage even in the medieval era, but then it received a fateful visit by a traveling man of letters who would become Japan's most well-known poet: the haiku master Matsuo Basho. During his legendary journey on "The Narrow Road to the Deep North," the title of his famous haiku journal chronicling his months on the road, he ascended Yamadera and was inspired to pen this haiku:
a profound silence–
the cry of a cicada
penetrating rock
Many visitors come as much to see the large stone outcropping that supposedly provided the basis for the poem as they do to climb to the top. The haiku is a classic that Japanese students encounter in school and that haiku enthusiasts around the world surely know. Few visitors of poetic persuasion are able to resist the urge to take a picture with the statue of Basho near the start of the trail. For those looking to immerse themselves even deeper, there is a memorial museum on the opposite hill in the valley that houses some of his writings and art. The cries of the cicadas, meanwhile, continue to pulsate through the forest in the summer. The Ministry of the Environment has designated Yamadera's cicadas one of Japan's "Top 100 Soundscapes."
The well-maintained ascent that begins at Sanmon Gate at the mountain's base is not arduous (Basho did not have hiking boots) and there is much more to see along the way. Both sides of the climb are dotted with tôrô (stone lanterns), Jizô (Bodhisattva) statues and other religious icons, as well as many stones with religious inscriptions. The area is sacred and feels very much so as you pass by the ubiquitous reminders. One cliff face of tuff called Midahora has been chiseled away by wind and weather in such a way to give the impression of the shape of Buddha. Stone "tôba" or grave tablets have been further carved into the rock. Niomon Gate hovers not far above.
These upper reaches of the temple grounds feature the Konpon Chûdô (main hall), which is–unusually–made out of beech, and other halls that can be reached by stone pathways. Godaido to the upper left extends out over the cliff, offering the best views and the best stomach butterflies. Deeper into the mountain lies the Okunoin ("inner temple") area, from which there are also some picturesque views. Of more importance to visitors with religious interests, the Daibutsuden houses a large statue of Amida Buddha, one of several important cultural assets at Yamadera.
The small town in the valley offers little in the way of attractions for visitors. There are a handful of rather decent soba shops, though, if you are hungry. Soba-dokoro Shinkyôbô is on the casual end, but doubles as a gift shop offering a selection of local Yamagata sake for tourists. Perhaps it's best to press on to your lodgings or next destination.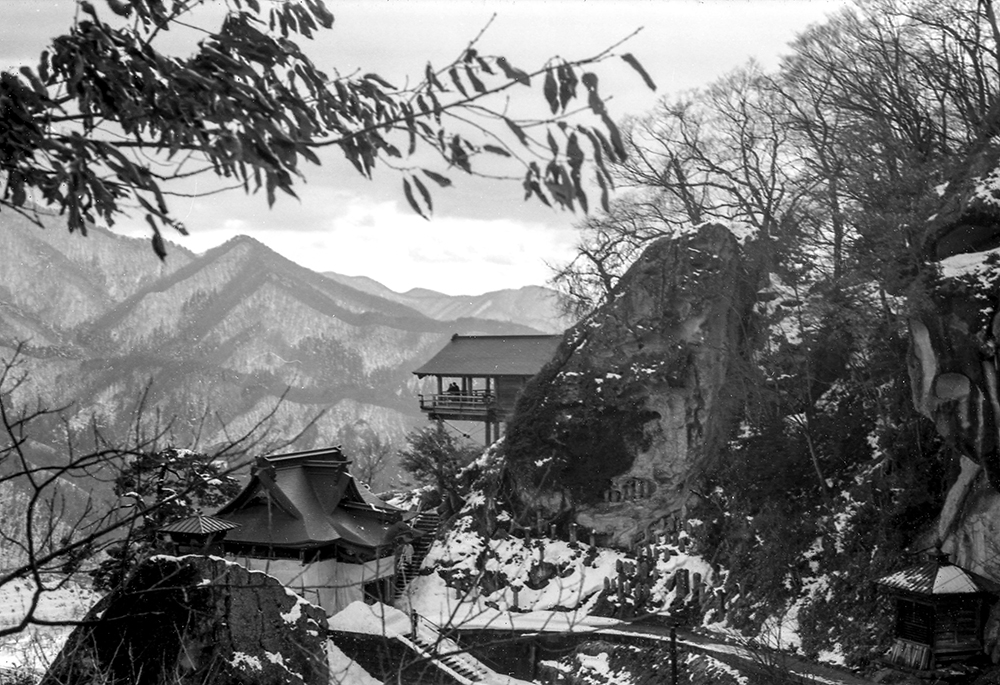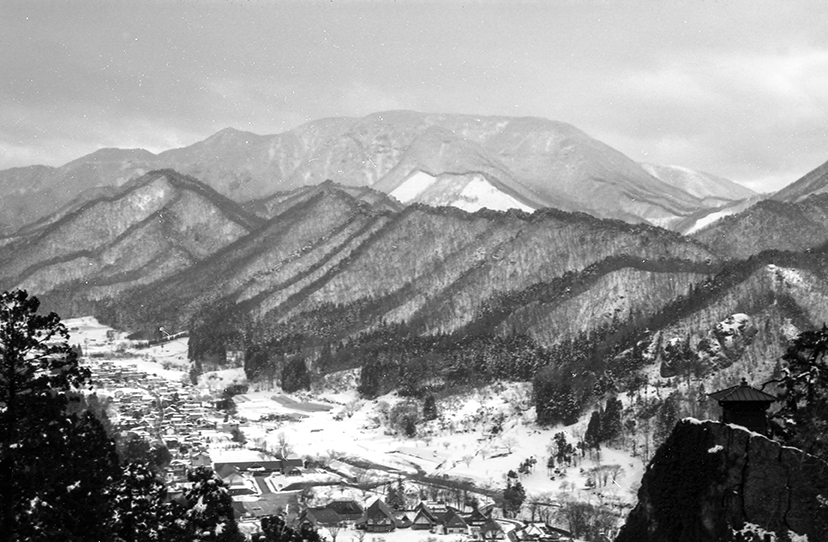 DEWA SANZAN
If you have not laced up your footwear for hiking yet, it may be time to do so. That stamina will come in handy, too, as well as some piety and humility if you want to play the part of a monk on a pilgrimage. Yamagata is home to Dewa Sanzan ("The Three Mountains of Dewa"), whose three sacred peaks include Mount Haguro, Mount Yudono and Mount Gassan. These are very different in scale and history from Yamadera; they are some of the holiest mountains in Japan, with a religious history dating back over 1400 years.
What began in the late 6th century as imperial prince Hachiko's mountain worship with roots in Japan's animistic Shinto religion evolved into a more complex and robust practice of religious asceticism in the mountains. Shrines were built on each of the mountains, attracting pilgrims from thousands of miles away. In particular Shugendô thrived here, melding philosophies of early Shintoism, Taoism, esoteric Buddhism and other practices. These involved demanding exercises and disciplines such as fasting, meditation in harsh conditions and feats of endurance. Yamabushi ("mountain ascetic hermits"), with their supposed powers of mystical perception and martial arts prowess, increasingly called this area home. In fact, they still do to this day, though the term is more loosely applied now; laymen followers of Shugendô claim the term, too. Yamabushi with conch-shell horns are common on the mountains–here and elsewhere in Japan. Spiritual discipline and physically demanding training is still a hallmark, though their fearsome martial arts skills have likely diminished since the warring centuries of the last millennium. Also, we hear from Mark Schumacher, who wrote the feature on sake and religion in issue #6, and who also participated in a Shugendô retreat, that at evening banquets the monks were happy to indulge in alcohol. Who says drinking sake can't be a feat of endurance?
Dewa Sanzan was also visited by our friend Matsuo Basho. On Gassan ("Moon Mountain"), the tallest of these peaks at 1984 meters (6,509 ft), he wrote:
towering cloud peaks
crumble away to reveal
mountain of the moon
The preponderance of mountain imagery in this tightly packed poem is fitting (haikuistic wordplay intended). Gassan is a rewarding alpine adventure, especially if your perceptions are tuned in to the subtler touches of beauty. It's easy to become mesmerized by the vast distances–or the terrain cast in mist and fog if such is your weather. There are also several scenic ponds and lakes along the route. If your visit should coincide with the late spring or summer, try to pay attention to the diverse array of alpine flora as you walk the trail to the summit where Gassan Shrine waits, shored up by stones. In the fall, the colors of autumn provide equal allure. A part of the mountain is actually open for skiing well into summer, Gassan being the lucky recipient of some of the most snowfall in Japan due to its proximity to the Japan Sea coast. Others enjoy snow trekking in the first few months of every year. The shrine, though, is inaccessible in the winter so plan accordingly if that is your goal.
Mount Yudono is the holiest of these three peaks and most Shugendô followers don't consider a pilgrimage to the area complete without a visit to its shrine, which interestingly is not on the top of the mountain, but toward the valley. It is also off-limits to photographs (at least the interior) and what lies within is shrouded in secrecy. Visitors making the approach to the main shrine must do so barefooted as a purification ritual. Many pilgrims reach the shrine from a rather steep trail leading down from Gassan, but there is a parking lot off a toll road near the shrine–as noted earlier, you don't need your hiking shoes for everything. Yudono is closed in the winter.
Mount Haguro and its respective shrine are the most famous and frequently visited of the three. Its relatively low elevation, and the fact that a toll road leads up to the shrine (if you don't want to climb the several thousand stone steps through the forest), enables it to be the only one open in winter, too. However, we're going to save a detailed discussion of this one, as well as other nearby attractions (including sake-themed ones) for the next issue and turn to another mountain in the prefecture deserving our attention: Mount Zao.
The prefectural border between Yamagata and Miyagi to the east shares the active volcano and ridgeline of Zao. Its proximity to Sendai, Tohoku's largest city, makes it a well-visited spot with ample infrastructure for the casual tourist. In the warmer months, Zao's main attraction is Okama Crater lake, which is actually on the Miyagi side. It is a dead lake because of its high acidity, but it vividly changes color depending on weather conditions. Hikers can reach viewing areas in Yamagata without too much difficulty. Setting out from Zao Onsen, you can trek or take the scenic Zao ropeway up the mountain to Sanpokojinsan (1703m) and from there, hike an hour to ninety minutes up to the viewing area of the crater. It is possible–and quite easy–to then hike down to Mt Katta (1758m) on the Miyagi side, which is also accessible by vehicle, but a night in Zao Onsen probably won't disappoint.
This quaint hot springs town (administratively a part of Yamagata City) has been serving guests for 1900 years, if we are to believe some of Japan's oldest legends. The highly sulfuric hot springs lend the streets a smell that is, well, somewhat unique. Its therapeutic effects on the skin at least are highly touted. There are a handful of public baths, some of them open-air (though closed in winter due to heavy snow). There are also quite a few hotels and ryokan in town, many with their own baths. Some of the lodgings are quite luxurious, like the exquisite Takamiya Ryokan Miyamaso. Others are little more than cheap rooms catering to the budget hiker or snow-sports enthusiast.
Zao Onsen is a winter wonderland for snowboarders, skiers and snowshoe trekkers–easily one of Japan's most famous resorts. Part of that fame owes to Zao's "Snow Monsters." Due to unique climate conditions, ice and snow cake thickly to the trees on part of the mountain, resulting in grotesque (or beautiful) forms that resemble giant snow creatures. On some of the courses, skiers and snowboarders must weave between them. At night, parts of the monster forest are illuminated. These curiosities aside, the facilities and slopes are extensive enough to attract winter sports enthusiasts from numerous countries.
Now, imagine a day of outdoor activity, a hot soak in a geothermal bath, and copious cups of delicious sake at night. It's completely viable. The town has a few casual Japanese restaurants with short but serviceable sake menus. Hopefully, though, you'll be getting a great meal at your ryokan, and they almost certainly will have sake on hand. If you want to be cautious or just load up on sake for your stay anyway, there's a liquor store in town well-stocked with sake called Itô Shôten. Hopefully, you've earned your right to do as some of the Shugendô monks do: drink up!